Hi loves! I wanted to share some amazing skincare products for winter, and spotlight one of my favorite natural brands: 100% Pure. Having acne-prone AND dry skin can be a real challenge. Products made for acne-prone skin are often drying, and products made for dry skin can be way too heavy and pore-clogging. However, all of these products from 100% Pure have left my skin really happy and hydrated! They contain no harsh chemicals, dyes, sulfates, or artificial fragrances.
A lot of face cleansers can really strip the skin. However, I've been LOVING this Argan Oil Creamy Cleanser. It has a lovely orange scent and leaves my skin so fresh and soft! Since it's very mild, I like to use this after I've removed my makeup, or in the morning. It's definitely suitable for sensitive skin, and I love that the main ingredient is aloe.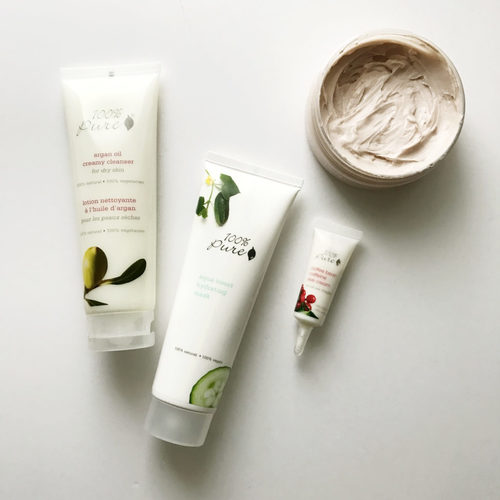 The Aqua Boost Hydrating Mask is my #1-holy-grail-can't-live-without-it product. It's a super moisturizing face mask, but during the winter months I actually use it twice-daily like a face moisturizer. It is one of the only products I've found that keeps my skin super hydrated without being heavy or clogging my pores. I used to load up on lotion at night, only to wake up with a greasy breakout. Now that I've found this product, I'm never going back!

My favorite way to keep my eye area moisturized is the Coffee Bean Caffeine Eye Cream. It reduces puffiness, brightens dark circles & smells like a vanilla latte! It really wakes up the eye area, which is perfect after an all-nighter, an ugly cry session, or just a Tuesday morning.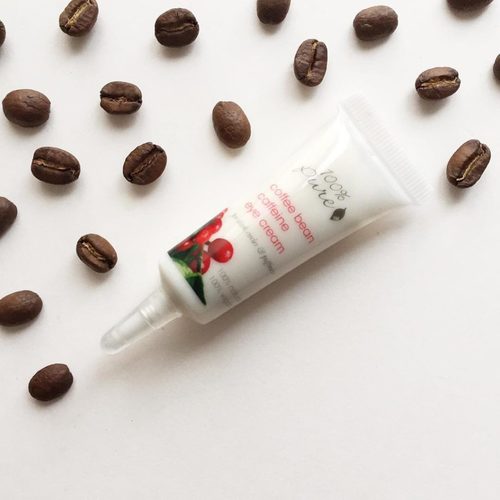 The last product I'm loving is more of a splurge for me: the Vanilla Bean Whipped Body Butter. I normally go for basic unscented body lotions, but I really couldn't resist this one. It smells like vanilla frosting and is just so buttery and creamy and decadent!
I honestly haven't tried a product from 100% Pure that I didn't love. They have a ton of skincare products and a great line of fruit-pigmented makeup (which I might just need to do another blog post on). Really my only complaint is that the packaging contains plastic, but at least it's post-recycled plastic.
Right now they're having a fun promo where you get gifts with your purchases! You can either get a set of skincare minis and cruelty-free makeup brushes, or a mascara and lipstick (depending on how much you spend). Definitely go check those deals out here.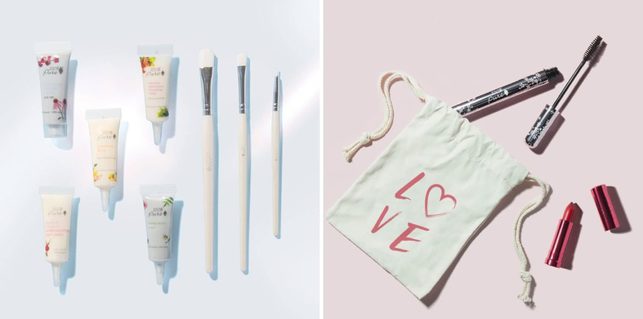 Here's to surviving the winter…Stay hydrated, snow bunnies! xoxo
*this post does contain affiliate links, but all opinions are my own. I don't share any products on my blog that I don't believe in.