I've been so inspired seeing friends and family take a sudden interest in a vegan lifestyle. Movies like Okja and What The Health have made a huge impact lately — even Google reported a spike in searches for "how to go vegan." So awesome!
Three main reasons people are choosing to go vegan:
For health.  Going plant-based can prevent and even reverse some degenerative diseases and forms of cancer. You might also find yourself with more energy, clearer skin, healthier hair, less inflammation, and quicker muscle recovery, to name a few added benefits.
For the planet. Animal agriculture is the leading cause of climate change. Going vegan is the #1 thing we can do as individuals to make an impact. One day as a vegan saves 1,100 gallons of water, 45 pounds of grain, 30 square feet of forested land, and 20 lbs of CO2 equivalent. One year as a vegan saves more water than you'll use showering over the next 55 years.
For the animals. I think at our core we all have a love for animals, but we find a way to ignore or justify the torture they face on factory farms.  All animals can experience pain, fear, and suffering. No matter how an animal is raised, I don't believe there's such a thing as "ethically" killed meat, because all animals have the desire to live.  More and more people are educating themselves and choosing a compassionate vegan lifestyle.
No matter your reason, any effort toward going vegan can make a difference. A few weeks ago I asked friends and family to try a vegan breakfast challenge, to make a small impact on climate change. I was honestly surprised at how many people participated! I figured I'd follow up with some vegan lunch ideas for anyone interested: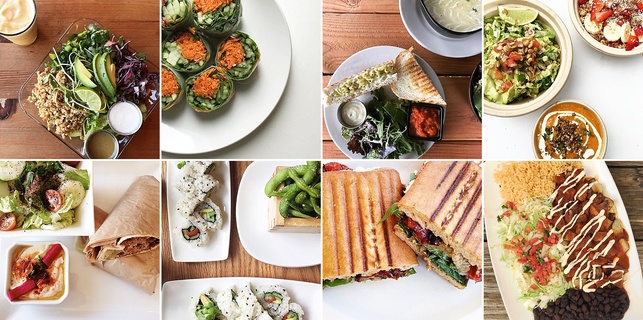 Sandwiches and wraps. Most tortillas, pita, and sandwich breads are vegan! So all you need to do is find your favorite fillings. Here are some ideas to get you started:

Peanut butter and jelly
Hummus and veggies
Falafel with tahini, hummus, lettuce, tomato and onion (best in a pita!)
"Tuna" sandwich using chickpeas, vegan mayo, celery and pickles.
Caesar wrap with "chick'n," lettuce, tomato, shredded carrots, and the best vegan caesar (available at Target!)
Grilled cheese using vegan alternatives like Chao, Vtopia, Follow Your Heart, Miyokos, Violife, etc. Once you find a good vegan cheese, you can recreate any of your favorites like a Caprese sandwich, or a pesto grilled cheese.
You can also veganize any classics from Reubens to Italian subs using vegan "meat" like Field Roast, tofu, seitan, jackfruit and chick'n. More sandwich ideas here

Salad. Maybe this one is obvious, but there are tons of ways to get creative here. I especially love a good taco salad! For dressing, you can stick with something already vegan like balsamic, or find a vegan version of your favorites like ranch or caesar. To add some protein you can pop on some nuts, seeds, hummus, quinoa or even grilled tofu.
Tacos/Burritos/Quesadillas. You don't even need a meat alternative to make a great taco. My go-to is a corn tortilla with fajita-style veggies, Spanish rice, refried beans, lettuce, guac and vegan cheese.
Sushi. My love for sushi is undying even as a vegan! There are so many great rolls out there, even beyond the basic avocado roll. Here are some ideas.
Rice Bowls. Pick your favorite grain (like brown rice or quinoa), then add veggies, protein and a yummy sauce. For example, I love brown rice topped with grilled peppers, snap peas, mushrooms, broccoli, carrots, cashews and peanut sauce.
Smoothie Bowl. Your favorite smoothie in a bowl + all the toppings! I love adding granola, coconut flakes, blueberries, strawberries, goji berries and peanut butter.
Soup, Ramen or Pho. There are so many delicious veggie broths out there!
Pasta. Vegan mac & cheese, pesto, marinara, avocado alfredo, Greek pasta salad, etc.
Spring or Summer Rolls. I love this recipe here.
Snack plate. All you favorite snacks! Pick some crackers/chips/bread, vegan cheese, fruit, veggies, hummus, dips, etc. Surprisingly filling!
Hopefully this gives you some ideas for a healthy or cruelty-free lunch! Even just one vegan meal a week can make a difference. If you need more ideas or have any questions, let me know!
xoxo