It's dinner time! With a little creativity, any of your favorite meals can be made vegan. And just a few vegan meals a week can really cut down your carbon footprint + save some furry/feathery friends. Here are some ideas: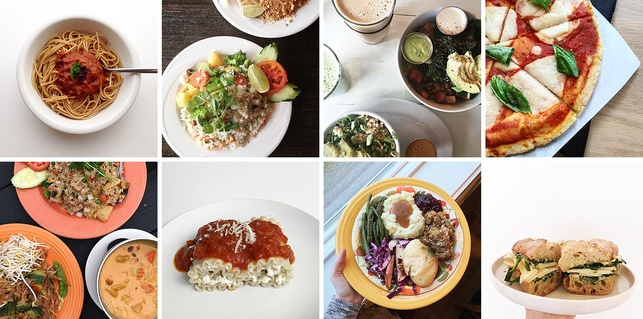 Pizza. Yes, vegans can enjoy pizza too. You can sub in your favorite meat/cheese alternatives, or just load up on veggies. My go-to toppings are peppers, mushrooms, onions, olives, and Vegan Mozz from Miyoko's Kitchen
Spaghetti/Lasagna. When I first went vegan, I swear I had spaghetti for every meal. If all you know how to do is make pasta and heat up marinara sauce, you're good to go. Of course, a homemade sauce is even better! I love letting mine simmer all afternoon with tomatoes, carrots, celery, brown sugar, fresh herbs and roasted garlic. Vegan lasagna is also amazing – you can layer in veggies like zucchini and eggplant, vegan ricotta, mozzarella and parmesan.
Baked Potatoes. Load 'em up with chili, chives, vegan sour cream, and even vegan bacon bits. For some extra nutritional value, go for sweet potatoes!
Kebabs. Definitely a summer favorite! Throw all your favorite veggies on a stick, season/marinate them, and grill 'em up! Serve with some rice + greens.
Burgers. I was so in love with cheeseburgers before I went vegan. I avoided veggie burgers for a long time, thinking they were all dry and crumbly. However, I've really come to love falafel burgers and portobello mushroom burgers, loaded with tons of condiments. I also recently discovered the Beyond Meat Burger and it is INSANELY DELICIOUS. Even my non-vegan friends were amazed!
Risotto, Stir Fry, or Fried Rice. Basically any rice dish can be veganized! I have stir fry at least once a week, and it's easy to mix things up depending on what veggies or sauces I have on hand.
Enchiladas, Tacos, or Nachos. All super easy to make vegan. Either focus on the veggies and beans, or sub in some meat alternatives like jack fruit, or Beyond Beef Crumbles. I also highly recommend this nacho cheese sauce from Heidi Ho.
Alfredo. Another childhood favorite. It's easy to create a vegan alfredo sauce using cashews or nutritional yeast. Check out some recipes here and here. Add broccoli or asparagus to get your greens!
Soup, Salad, Breadsticks. Olive Garden knows what's up. Be sure to read the label on broths or salad dressings – or just make your own!
Chili. Always comforting and hearty, even without the meat. Serve with vegan cornbread.
Curry. Curry is another great option to get lots of veggies and lots of flavor.
Pad Thai. I can't say no to a good Thai dish, especially with lots of peanut sauce!
Side Feast. You know how the best part of Thanksgiving is the sides? Mashed potatoes, green bean casserole, stuffing, rolls, etc.? Just throw all your favorite vegan sides together for the best dinner ever.
These are just a few meals I enjoy on a regular basis, but you're a quick Google search away from thousands of more ideas. Have fun in the kitchen! xo