Hi loves! Orenda Skin Care sent me this amazing package a few months ago, and I'm so excited to finally review it! Everything is 100% natural, toxin-free, and filled with botanicals and antioxidants.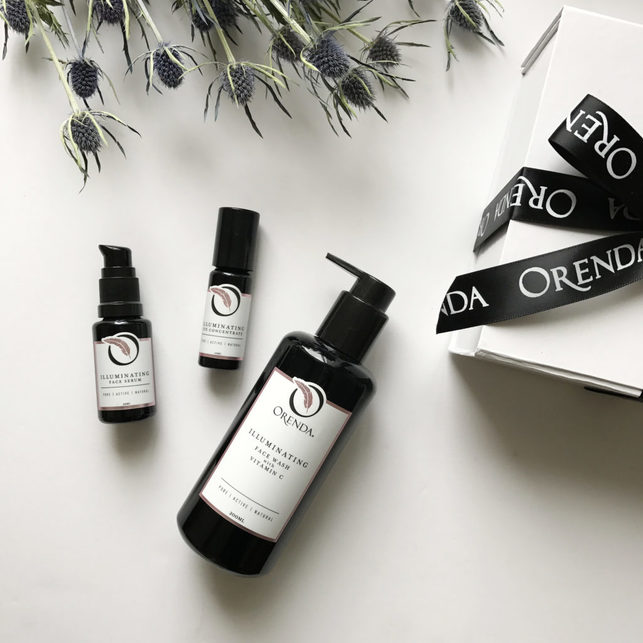 The first step in the process is the Illuminating Face Wash with Vitamin C. It's very gentle, but still leaves my skin feeling clean. At first I felt the scent was a little too strong, but after a while I got used to it. I love that it contains seaweed extract, because it's great for detoxifying the skin, but won't mess with your PH levels!
My absolute favorite product in the bunch is the Illuminating Eye Concentrate. It smells incredible and is jam-packed with amazing ingredients like organic coffee bean oil and organic borage CO2.  I've been using it morning and night religiously the last few weeks and I LOVE it. My skin is so soft and my makeup applies better than ever. It's also really refreshing because the application tip is a stainless steel roller ball — my favorite!
The last step in the process is the Illuminating Face Serum. Again, this one smells like a lovely day at the spa! My first time using this, it didn't absorb very well. My skin felt a little oily at the end of the day and I was worried I might get a breakout! I went to their website and read that it's actually really safe for acne-prone skin. I think I just applied too much! So now, instead of using a few pumps on it's own, I've been adding just a drop or two to my favorite moisturizer. I love getting a boost of antioxidants and vitamins for my skin with every application!  This serum has a ton of benefits, which you can read about here.
Overall this is a wonderful skincare line! If you love essential oils and glowy skin, I would highly recommend it. While the line is expensive, they offer free shipping and a 100% satisfaction guarantee. So if for some reason it doesn't work for your skin, you can ship it back at no cost to you. I definitely plan to splurge on the Illuminating Eye Concentrate again — it's worth it!
xoxo
allegra
*These products were sent to me for review. All opinions are my own.