EYEBROWS: The most important topic of 2017. Ok obviously not, but I do love a good brow. I photograph a lot of people, and I can tell you that eyebrows done right (or wrong) can make all the difference. Ever since I realized this, I've been trying to achieve the perfect brow. Here's what I've learned & how I do my brows with clean beauty products:
Shaping Methods: waxing, sugaring, threading, or plucking? So many options for brow shaping! I personally recommend threading if you can handle it. It's extremely precise and no chemicals are involved (because it literally just uses thread). If you can find a threading artist with killer shaping skills, you've found a friend for life.
Sugaring is another great option, if you can find someone using a natural formula (like Echo Natural Beauty in Portland!) It's much less painful than waxing and threading in my opinion.
If you trust yourself to shape and pluck your own brows, go for it! There are tons of great tutorials online.
My technique? Well, lately I've just been letting my brows grow wild, but I plan to go back to threading soon. I always ask them to clean up the strays and create a clean parallel line from the start of the brow to the arch (no tadpole brows). I try to keep as much hair possible, because I love big bold brows!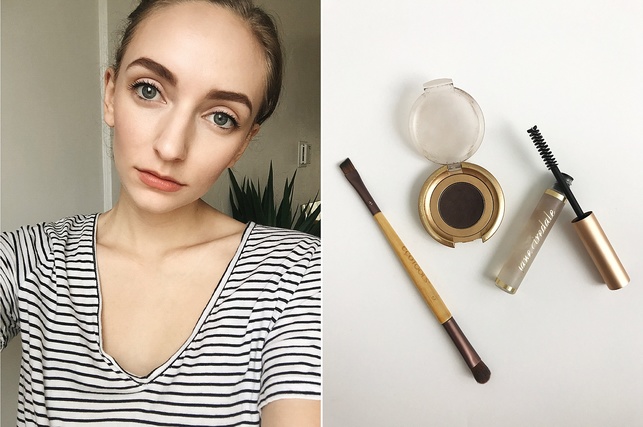 Brow Products: There are so many great products out there, ranging from pencils, gels, pomades and powders. To me, it's not so much about the type of product, but the color! I had the hardest time finding a brown that didn't look too red/orange on my skin.
When I stumbled across this eyeshadow from Jane Iredale in "Double Espresso," I knew I'd found the one. It might not be meant for brows, but it's the the most perfect neutral brown for me. I also love that it can apply feathery light, or super bold, depending on how much product I use.
My technique? I create the shape using an angled brush, like this one from Ecotools. Then I softly fill in the rest with the fluffy side. To create the best shape, I follow this guide below.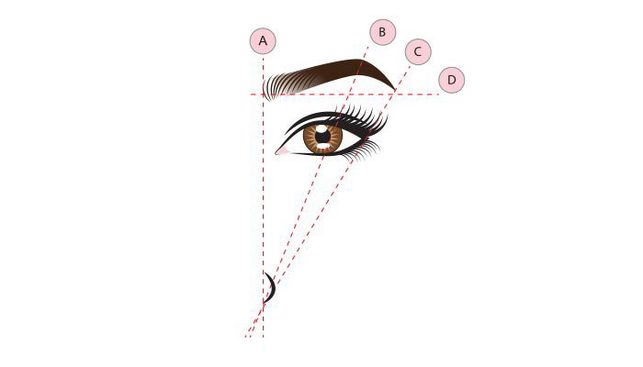 Using the side of my nose as a starting point, I hold my pencil/brush against my face where these dotted lines are to give a straight edge. A is where the brow should begin, B is where the arch should go, and C is where the brow should end.  This is also a great guide for plucking/shaping brows!
Once my brows are shaped and filled in, I finish them off with this clear brow gel from Jane Iredale. It's easy for brows to get out of place during the day, and this gel keeps them where I want them!
The results? Here's the difference it makes — left is before, right is after.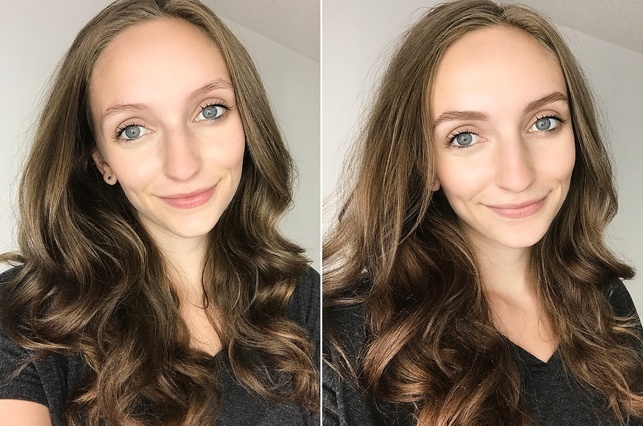 If I'm wearing minimal makeup for the day (like above), I'll keep my brows light. If I'm wearing more makeup (like the first photo), I'll go darker and bolder. Brows are a great way to balance out your look and frame your eyes. So to me, it seems a little unbalanced to create a full-on smokey eye and then not touch my brows. Or to go super bold with my brows, and then not balance things out with a nice lip color or something. Of course, that's just my personal opinion, and you should do whatever makes you feel best!
If you've ever wondered how I do my brows, now you know! I'd love to hear your techniques/tips too, so feel free to share! xoxo