Today is all about exfoliating. First off, why is exfoliating important? It removes dead skin cells and toxins, evens out skin tone, stimulates collagen production, and reduces the appearance of fine lines and enlarged pores. It can also help your favorite products absorb into your skin better!
Exfoliating has some amazing benefits, but it should always be done gently. Over-exfoliating can cause irritation, breakouts, and damage to your skin. When used correctly, the options below are gentle and effective. You'll be glowing in no time!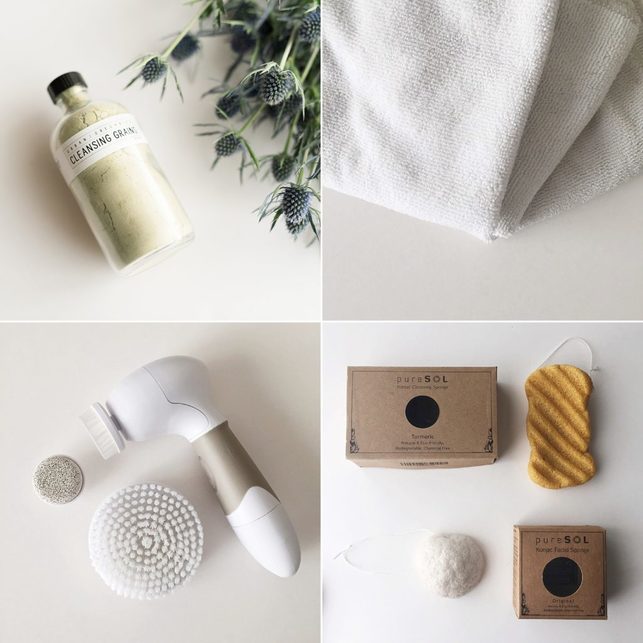 Konjac Sponges. These sponges are extremely gentle, so they are perfect for everyday use. They help balance your skin's PH levels, and even out your skin tone. I currently use the Original Facial Sponge (great for sensitive skin) and the Turmeric Body Sponge (meant to help with detoxing).
Microfiber Washcloths. I honestly don't know how I survived without these! Microfiber cloths are perfect for washing your face or oil cleansing. They are antibacterial and pick up toxins and makeup without needing to scrub or pull at your skin. I'm always amazed at how soft my skin feels afterwards! Highly recommend these, especially if you have sensitive or acne prone skin.
Spin Brush. The most fun way to exfoliate! This brush comes with 4 brush heads: two for your face, a body brush, and a pumice stone for your feet. I felt like a whole new person the first time I used it – it removes makeup and dead skin cells, and really makes you glow! Currently on sale here.
Natural Exfoliants. There are a lot of natural products on the market for exfoliation. Some can be used daily, like this gentle face wash, made with oatmeal and quinoa. For a monthly pick-me-up, I recommend finding a facial peel like this one, which uses fruit enzymes and acids to resurface skin.  Another great option is a facial scrub, which should be used no more than once a week. You can make your own by combing sugar and oils, or purchase an affordable one like this.
What's your favorite way to exfoliate?
xo
Allegra